The Wetland Coffee Break series helps keep our community of wetland lovers connected and learning about wetlands throughout the year, from anywhere! Bring your coffee and learn about wetlands, the plants and animals that call them home, and the many natural benefits they provide to our communities. Sessions are held on Zoom and feature time for audience Q&A.
See below for a list of upcoming presentations and to register. Once you register, you'll receive an automatic email including the URL link and password you'll need to access the meeting. We record and post each presentation so you can watch any that you missed live. You'll find links to these recordings below, and you can also find them on our Facebook page.
We are grateful to all of the presenters for sharing their knowledge and expertise and to everyone interested in learning more about wetlands! If you are interested in giving a Wetland Coffee Break presentation, or if you have a wetland topic you'd like to see covered, please contact Katie.Beilfuss@wisconsinwetlands.org.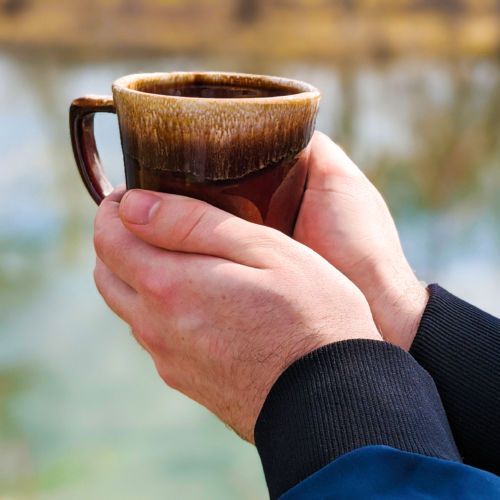 Register for a Wetland Coffee Break
The influence of beaver dams on Wisconsin trout streams
Matthew Mitro, Wisconsin DNR Office of Applied Science
Friday, February 3, 2023
10:30 am
Description
Beavers and the wetlands they create play a complex role in the dynamics of low-gradient streams of the Upper Midwest, especially where dams alter important habitat for trout. Here I will provide information about a long-term study addressing how beaver dams change instream and riparian habitat in trout streams throughout Wisconsin; the transient versus permanent nature of beaver dams; how beaver dams affect short-term trout population and fish community dynamics; and the influence of beaver dams on stream temperature.
Matthew Mitro is a coldwater fisheries research scientist with the Wisconsin Department of Natural Resources. Based in Madison, Matt has been working with the DNR on statewide trout fisheries issues since 2003. Matt has also worked for the EPA's Atlantic Ecology Division and the Atlantic States Marine Fisheries Commission, and he earned his Ph.D. in fisheries at Montana State University studying rainbow trout recruitment in the Henry's Fork.
Amphibians and reptiles of Wisconsin
Josh Kapfer, UW-Whitewater
Friday, March 3, 2023
10:30 am
Description
Amphibians and reptiles represent an essential component of Wisconsin's wildlife. Eighteen species of amphibian and thirty-six species of reptile occupy landscapes across the state. These species are vital members of their biological communities, acting as important predators, prey, and competitors, while also providing a wide variety of additional ecological functions. Dr. Joshua Kapfer is co-author of the recently-published volume "Amphibian and Reptiles of Wisconsin," assembled by an expert team of editors and contributors. This book consolidates the current state of scientific knowledge and aims to expand public knowledge and appreciation of Wisconsin's natural legacy. Learn more about the information in this new book and hear stories about some of the amphibians and reptiles it describes.
Joshua Kapfer
is a Certified Wildlife Biologist and Professor at the University of Wisconsin-Whitewater. His research interests include vertebrate ecology and conservation, wildlife habitat selection, spatial ecology, population biology, and behavioral ecology. He received Bachelor's and Master's degrees in biology from UW-LaCrosse and a Ph.D. in ecology and evolution from UW-Milwaukee.
Details coming soon!
Friday, March 17, 2023
10:30 am
Karst hydrogeology & wetlands
Maureen Muldoon and Grace Graham, WI Geological & Natural History Survey
Friday, April 21, 2023
10:30 am
Description
Have you ever heard of "karst"? Hydrogeologist Maureen Muldoon will provide an introduction to the hydrogeology of Wisconsin's karst landscapes. Geologist Grace Graham will talk about the relationship between karst springs and wetlands.
Maureen Muldoon started her career with the Wisconsin Geographical & Natural History Survey (WGNHS) in 1987. In 1998 she moved to UW-Oshkosh for 21 years, where she was a professor of Geology. She has recently returned to the WGNHS, where she conducts research that focuses on applied groundwater questions throughout Wisconsin with a focus on hydrogeology of karst. Grace Graham is a geologist for WGNHS, where she does fieldwork, data management, and geographic information system (GIS) work for a variety of projects and research topics, balancing her between the field and the office.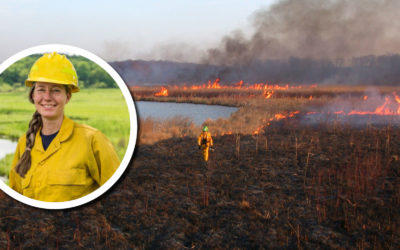 Join Hannah Spaul, Director of Land Management for The Nature Conservancy in Wisconsin, to learn about the historic role of fire in the state's wetlands.