The Wetland Coffee Break series helps keep our community of wetland lovers connected and learning about wetlands throughout the year, from anywhere! Bring your coffee and learn about wetlands, the plants and animals that call them home, and the many natural benefits they provide to our communities. Sessions are held on Zoom and feature time for audience Q&A.
See below for a list of upcoming presentations and to register. Once you register, you'll receive an automatic email including the URL link and password you'll need to access the meeting. We record and post each presentation so you can watch any that you missed live. You'll find links to these recordings below, and you can also find them on our Facebook page.
We are grateful to all of the presenters for sharing their knowledge and expertise and to everyone interested in learning more about wetlands! If you are interested in giving a Wetland Coffee Break presentation, or if you have a wetland topic you'd like to see covered, please contact Katie.Beilfuss@wisconsinwetlands.org.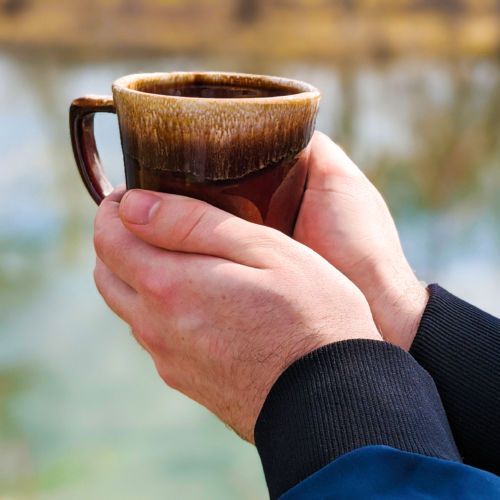 Register for a Wetland Coffee Break
It's the little things that run the world: the importance of aquatic invertebrates
Mike Miller, WDNR
Friday, October 7, 2022
10:30 am
Description
Join stream ecologist Mike Miller to learn about the variety of invertebrates found in Wisconsin's flowing waters and connected wetlands, including information on species diversity, biological fun facts, their role in the functioning of streams, and their use as indicators of ecosystem health.
Mike Miller is a stream ecologist working for Wisconsin's Department of Natural Resources' Water Quality Bureau out of Madison. Much of his work is focused on stream monitoring and assessment, and current projects include monitoring the concentrations of pesticides found in Wisconsin's flowing waters and assessing their environmental impacts as well as exploring the use of unmanned aerial vehicles (drones) for natural resources assessment. Mike is a co-author of Field Guide to Wisconsin Streams and teaches a stream ecology and watershed management course in UW-Madison's Nelson Institute. When not thinking, writing, or teaching about streams, he can be found getting out-witted by animals with pea-sized brains when flyfishing for trout in Wisconsin's Driftless Area.
Big Seeds: The Land Restoration School
Nancy Aten, Dan Collins, and Chris Young, The Land Restoration School
Friday, October 21, 2022
10:30 am
Description
Ecological restoration sits at the intersection of academic ecology and the practice of land stewardship, especially when we look at the challenge and necessity of training the next generation of restorationists. The Land Restoration School explored that intersection by bringing together a range of theoreticians and practitioners in a bold attempt to launch the careers of ambitious and dedicated individuals who will form a community for the future. School founding co-directors Nancy Aten and Dan Collins with school curriculum chair Chris Young will discuss the framework for the eight-to-twelve week residential academic program in the principles, practice, and planning of ecological restoration for degraded lands; lessons learned in the first year of operation; and investing in big seeds.
Nancy Aten and Dan Collins are Co-Founding Directors of the Land Restoration School and together form Landscapes of Place, offering landscape restoration planning and design, ecological restoration, and land stewardship services. Chris Young is Curriculum Chair of the Land Restoration School as well as Project Manager of the Urban Ecology Center Institute, Professor of Biology at Alverno College, and Affiliated Professor of History at the University of Wisconsin-Milwaukee, with an extensive natural science teaching career in higher education.
Establishing a Green Bay National Estuarine Research Reserve (NERR):
Updates on the designation process and research opportunities
Emily Tyner, UW-Green Bay
Friday, November 18, 2022
10:30 am
Description
Two years after her first Wetland Coffee Break on this topic, UW-Green Bay Director of Freshwater Strategy Emily Tyner will provide an update on the designation of the Bay of Green Bay as a National Estuarine Research Reserve (NERR). The designation team has recently achieved a significant milestone in selecting a site for the natural areas of the NERR. Emily will share details on the recommended site and explain the wetland and estuary research opportunities available to our community upon designation.
Emily Tyner
is the UW-Green Bay Director of Freshwater Strategy. Emily holds a Master's degree in freshwater sciences (invasive species biology) from UW-Milwaukee and a bachelor's degree in biology and marine sciences from Smith College. She has served as a science communication intern at the Association for Sciences of Limnology & Oceanography in Washington D.C., developed a multi-media book talk for award-winning author Dan Egan, and represented (on more than one occasion) the National Parks Association to advocate for the Great Lakes on Capitol Hill.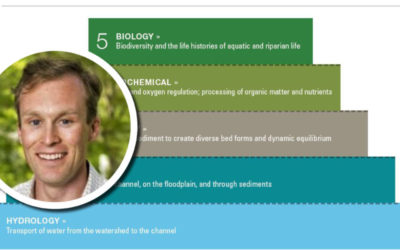 Join Paxton Ramsdell as he describes the five hierarchical functions of streams and describes the importance of accounting for each of these functions when protecting or restoring streams and watersheds.