The Wetland Coffee Break series helps keep our community of wetland lovers connected and learning about wetlands throughout the year, from anywhere! Bring your coffee and learn about wetlands, the plants and animals that call them home, and the many natural benefits they provide to our communities. Sessions are held on Zoom and feature time for audience Q&A.
See below for a list of upcoming presentations and to register. Once you register, you'll receive an automatic email including the URL link and password you'll need to access the meeting. We record and post each presentation so you can watch any that you missed live. You'll find links to these recordings below, and you can also find them on our Facebook page.
We are grateful to all of the presenters for sharing their knowledge and expertise and to everyone interested in learning more about wetlands! If you are interested in giving a Wetland Coffee Break presentation, or if you have a wetland topic you'd like to see covered, please contact Katie.Beilfuss@wisconsinwetlands.org.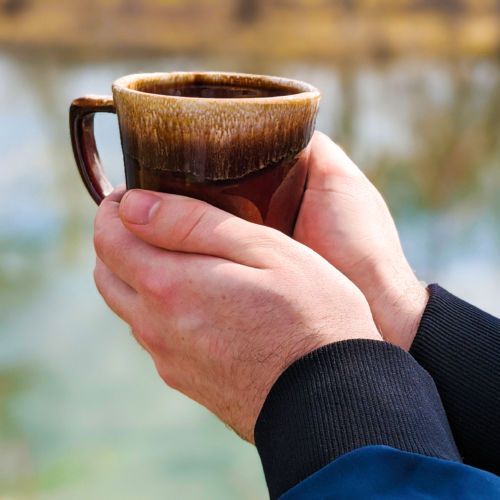 Register for a Wetland Coffee Break
SPECIAL EDITION: Implications of the Sackett decision for Wisconsin: Early takes from the front lines
Erin O'Brien (WWA), Evan Feinauer (Clean Wisconsin), and other panelists TBD
Friday, June 16, 2023
*9:30 am* CT – NOTE SPECIAL TIME
Description
Join us for a special one-hour edition of our Wetland Coffee Break series to explore the ecological, legal, and political implications for Wisconsin wetlands of the U.S. Supreme Court's decision in Sackett vs EPA. Hear short presentations by a panel of experts providing the details and context of the case, followed by a facilitated Q&A session with the panelists. Bring your questions on how this decision impacts Wisconsin wetlands! Panelists will include Erin O'Brien, WWA Policy Programs Director, and other Wisconsin experts (TBD). Note: this session will focus on the implications of this recent ruling with respect to wetlands in Wisconsin; the panel does not anticipate spending time on broader implications nationally.
Erin O'Brien has been with WWA since 2004. Her current work focuses on strengthening state laws and regulations governing wetland management, building capacity to help integrate wetland conservation into state-sponsored programs, and providing support to communities interested in restoring wetlands to solve problems. Erin has a Master's degree in Land Resources from UW-Madison and more than twenty-five years of experience managing projects for non-profit organizations.
Evan Feinauer is a staff attorney at Clean Wisconsin who focuses on protecting Wisconsin's waters by supporting Clean Wisconsin's policy experts and lobbyists at the Capitol and by litigating in state court. Evan grew up in the country near Omro, Wisconsin. Prior to joining Clean Wisconsin, Evan worked as a Litigation Fellow with the Natural Resources Defense Council (NRDC), where he Evan helped litigate a Safe Drinking Water Act citizen suit responding to the Flint water crisis in federal district court in Detroit, MI. Evan holds a bachelor's degree in philosophy and political science from UW-Madison, a master's degree in ethics and public policy from Suffolk University, and a J.D. from the University of Chicago Law School.
Details on other panelists coming soon!

Wetland monitoring and protection on the Red Cliff reservation
Jessica Jacobson, Red Cliff Treaty Natural Resources
Friday, June 23, 2023
10:30 am
Description
Gaa-Miskwaabikaang, Red Cliff Band of Lake Superior Chippewa, is a federally recognized Tribal nation located on the Bayfield Peninsula in Northern Wisconsin. Several coastal wetlands where streams meet the Lake Superior shoreline as well as numerous inland wetlands in Red Cliff offer food and medicines to Tribal members who have been stewarding the landscape for generations. Take a tour of the wetlands in Red Cliff including Frog Bay Tribal National Park and Wetland Gem Raspberry Bay and learn about efforts to monitor and manage the Tribe's wetlands.
Jessica Jacobson is the Wetland Specialist for the Red Cliff Band of Lake Superior Chippewa. She has been working in the water resources field for the last 6 years since graduating from the University of Minnesota with a bachelor's degree in Environmental Science. After joining Red Cliff in 2021, her work has been focused on developing a wetland monitoring program to increase understanding of the extent and quality of tribal wetlands.
Dibaginjigaadeg Anishinaabe Ezhitwaad: A tribal climate adaptation menu for indigenous-led adaptation planning
Hannah Panci (GLIFWC) and Sara Smith (College of Menominee Nation – Sustainable Development Institute)
Friday, June 30, 2023
10:30 am
Description
Indigenous knowledges and perspectives are not commonly recognized in climate adaptation planning focused on natural and cultural resource management. The Tribal Adaptation Menu (TAM), which was developed by a diverse group of collaborators representing tribal, academic, intertribal, and government entities in Minnesota, Wisconsin, and Michigan, provides a framework to integrate indigenous and traditional knowledge, culture, language, and history into the climate adaptation planning process. It was created to help engage tribal and traditional values in climate adaptation planning processes, such as the Northern Institute of Applied Climate Science Adaptation Workbook. The TAM may be used as a tool to help bridge communication barriers for tribal and non-tribal persons or organizations interested in indigenous approaches to adaptation and the needs and values of diverse tribal communities.
Hannah Panci is a scientist in the Climate Change Program at the Great Lakes Indian Fish and Wildlife Commission (GLIFWC). Her primary projects include a climate change vulnerability assessment of culturally important beings, climate change adaptation planning, work on the Tribal Adaptation Menu, a plant phenology project, and a seed collection project. She uses both Traditional and Scientific Ecological Knowledge to look at the impacts climate change will have on treaty resources on which GLIFWC's 11 member tribes rely. She is originally from Eagle River, Wisconsin, and now lives in Ironwood, Michigan, where she moved to find lake-effect snow.
Sara Smith is a citizen of the Oneida Nation of Wisconsin and is the Midwest Tribal Resilience Liaison with the College of Menominee Nation – Sustainable Development Institute (CMN-SDI), in association with the Midwest Climate Adaptation Science Center (MW CASC). As the liaison for the Midwest, she works on facilitating stronger relationships between Tribes, climate researchers, organizations, academic institutions, and the MW CASC. In addition, she works with Tribes to build capacity and provides support by helping identify gaps and assisting with climate resilience efforts. Sara holds a master's degree in ecology from the State University of New York – College of Environmental Science and Forestry and an undergraduate degree in biology and first nation studies from UW-Green Bay.
Starhead Topminnow: The rare s

tar of the backwaters of the Lower Wisconsin Riverway
Madeline Cleveland and Dave

Marshall



Friday, July 28, 2023
10:30 am
All-female salamanders "rule" an ephemeral pond
Gregory T. Burns, Citizen Scientist and Wisconsin Master Naturalist
Friday, August 25, 2023
10:30 am
Description
Learn about a multi-year citizen science amphibian-focused research project studying vernal pools (ephemeral ponds) in east central Wisconsin from citizen-scientist Greg Burns. Greg will share notable observations and findings from this study, including the first definitive discovery of the all-female salamander biotype, unisexual Ambystoma, in southern Wisconsin (previously only known in northern Wisconsin counties).
Greg Burns worked in healthcare administration for almost 40 years, including serving as the chief executive officer for three hospitals. Retirement has provided the opportunity to pursue his lifelong passion for the outdoors and the natural world. Beyond amphibian research, Greg's other citizen science activities include participating in Snapshot Wisconsin, Bald Eagle Nest Watch-Madison Audubon, and the Wisconsin Odonata Survey and serving as a field assistant for the Cooper's Hawk research of UW-Stevens Point Professor Robert Rosenfield.
Wetland invasive species management
Craig Annen, Integrated Restoration, LLC
Friday, September 22, 2023
10:30 am
Description
Talk details coming soon!
Craig Annen earned his bachelor's of science in environmental science and plant molecular cell biology from Edgewood College in 1998 and his master's of science in aquatic botany from the UW-LaCrosse in 2001. His research interests include invasive species management, economical ecology, and mathematical ecology. Craig is senior ecologist and operations manager of the firm Integrated Restorations, LLC. He speaks fluent German, is a New York Yankees fan, and is a gourmet cook of Middle Eastern and German cuisine.
Wetland bryophytes
Keir Wefferling, UW-Green Bay Assistant Professor & Herbarium Curator
Friday, October 13, 2023
10:30 am
Description
Despite their ecological importance and sensitivity to ecological gradients and microhabitats, bryophytes (non-vascular land plants, comprising mosses, liverworts, and hornworts) in Wisconsin are not currently included in wetland quality assessments. Hear from Keir Wefferling about his work to coordinate with bryologists and ecologists from the Great Lakes region to modify existing protocols for wetland floristic quality assessments by analyzing the bryophyte community. Specifically, Keir will address the question, "What can bryophytes tell us about ecosystem health and anthropogenic disturbance in Wisconsin peatlands?"
Keir Wefferling is the curator of the Gary A. Fewless Herbarium and assistant professor of biology at UW-Green Bay. His current research focuses on the bryophytes of peat-accumulating wetlands of Wisconsin, though previous work has focused on flowering plants and ferns of other parts of the world.

Establishing a citizen science salamander and ephemeral pond monitoring program in Wisconsin
Richard Staffen, Wisconsin Department of Natural Resources
Friday, October 20, 2023
10:30 am
Description
What are ephemeral ponds, and why are they important to amphibians and other critters? Tune in to this presentation by WDNR conservation biologist Richard Staffen to learn about this and more. Richard will discuss about a ranking system his team developed to prioritize these ponds on the landscape using quantitative data on amphibian usage, and he will introduce a new salamander and ephemeral pond monitoring project to involve citizen scientists around the state.
Richard Staffen has been a conservation biologist for WDNR's Natural Heritage Conservation program since 2002. He helps coordinate (and participates in) inventory and monitoring projects focused on rare vertebrate animals across the state. Richard has led efforts to better understand the extent of snake fungal disease in Wisconsin, assisted in the recovery of the eastern massasauga rattlesnake, performed ephemeral pond surveys for breeding amphibians across the state, and performed surveys of numerous other rare reptiles and amphibians in Wisconsin.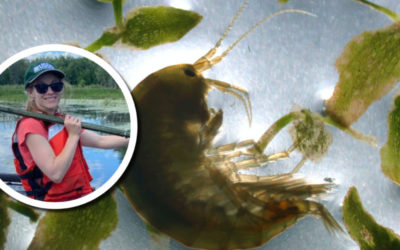 Amphipods are important wetland invertebrates that indicate water quality and healthy aquatic plant habitats and are a key food for waterfowl.