The Wetland Coffee Break series helps keep our community of wetland lovers connected and learning about wetlands throughout the year, from anywhere! Bring your coffee and learn about wetlands, the plants and animals that call them home, and the many natural benefits they provide to our communities. Sessions are held on Zoom and feature time for audience Q&A.
See below for a list of upcoming presentations and to register. Once you register, you'll receive an automatic email including the URL link and password you'll need to access the meeting. We record and post each presentation so you can watch any that you missed live. You'll find links to these recordings below, and you can also find them on our Facebook page.
We are grateful to all of the presenters for sharing their knowledge and expertise and to everyone interested in learning more about wetlands! If you are interested in giving a Wetland Coffee Break presentation, or if you have a wetland topic you'd like to see covered, please contact Katie.Beilfuss@wisconsinwetlands.org.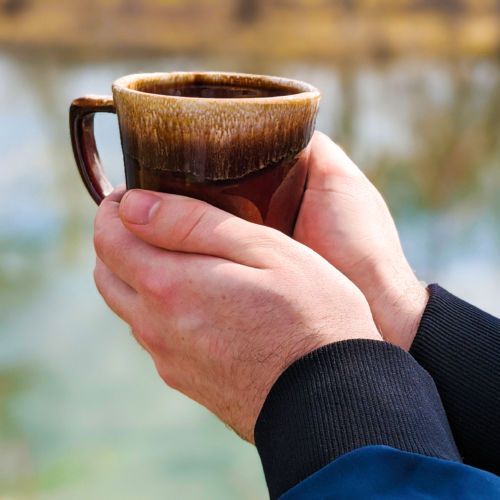 Register for a Wetland Coffee Break
Bryophyte floristic quality assessments of Wisconsin peatlands
Keir Wefferling, UW-Green Bay Assistant Professor & Herbarium Curator
Friday, October 13, 2023
10:30 am
Description
Despite their ecological importance and sensitivity to ecological gradients and microhabitats, bryophytes (non-vascular land plants, comprising mosses, liverworts, and hornworts) in Wisconsin are not currently included in wetland quality assessments. Hear from Keir Wefferling about his work to coordinate with bryologists and ecologists from the Great Lakes region to modify existing protocols for wetland floristic quality assessments by analyzing the bryophyte community. Specifically, Keir will address the question, "What can bryophytes tell us about ecosystem health and anthropogenic disturbance in Wisconsin peatlands?"
Keir Wefferling is the curator of the Gary A. Fewless Herbarium and assistant professor of biology at UW-Green Bay. His current research focuses on the bryophytes of peat-accumulating wetlands of Wisconsin, though previous work has focused on flowering plants and ferns of other parts of the world.

Establishing a citizen science salamander and ephemeral pond monitoring program in Wisconsin
Richard Staffen and Madison Wikston, Wisconsin Department of Natural Resources
Friday, October 20, 2023
10:30 am
Description
What are ephemeral ponds, and why are they important to amphibians and other critters? Tune in to this presentation by WDNR conservation biologists Richard Staffen and Madison Wikston to learn about this and more. Rich and Madison will discuss a ranking system his team developed to prioritize these ponds on the landscape using quantitative data on amphibian usage, and he will introduce a new salamander and ephemeral pond monitoring project to involve citizen scientists around the state.
Richard Staffen has been a conservation biologist for WDNR's Natural Heritage Conservation program since 2002. He helps coordinate (and participates in) inventory and monitoring projects focused on rare vertebrate animals across the state. Richard has led efforts to better understand the extent of snake fungal disease in Wisconsin, assisted in the recovery of the eastern massasauga rattlesnake, performed ephemeral pond surveys for breeding amphibians across the state, and performed surveys of numerous other rare reptiles and amphibians in Wisconsin.
Madison Wikston is an LTE conservation biologist for WDNR's Natural Heritage Conservation program. She has worked in wildlife research and conservation for more than a decade, focusing on reptile and amphibian monitoring efforts. Madison completed her Master's degree studying amphibian communities via environmental DNA (eDNA) in 2021.
Fascinating species frequenting ephemeral ponds
Greg Burns, Citizen Scientist
Friday, November 3, 2023
10:30 am CT
Description
Learn more about the multi-year citizen science amphibian-focused research project studying ephemeral ponds in east central Wisconsin from citizen-scientist Greg Burns. Greg previously presented at an August 2023 Wetland Coffee Break about the first definitive discovery of the all-female salamander biotype, Unisexual Ambystoma in southern Wisconsin. In this presentation, Greg will share more information about other fascinating species frequenting the ephemeral pond during the surge of spring migration and breeding.
Greg Burns worked in healthcare administration for almost 40 years, including serving as the chief executive officer for three hospitals. Retirement has provided the opportunity to pursue his lifelong passion for the outdoors and the natural world. Beyond amphibian research, Greg's other citizen science activities include participating in Snapshot Wisconsin, Bald Eagle Nest Watch-Madison Audubon, and the Wisconsin Odonata Survey, and serving as a field assistant for the Cooper's Hawk research of UW-Steven Point Professor (Retired), Robert Rosenfield.
Wetland conservation practices for landowners
Tally Hamilton, Ducks Unlimited, and Gretchen Skudlarczyk, Pheasants Forever
Friday, November 17, 2023
10:30 am
Description
Wetlands provide habitat for a variety of wildlife species as well as important ecosystem services. Learn from Tally Hamilton and Gretchen Skudlarczyk—wetland experts with years of experience working with private landowners—about some of the practices and programs available to restore and enhance wetlands on private lands.
Tally Hamilton has been with Ducks Unlimited for two years, starting as the Wetland Habitat Coordinator/Private Lands Biologist for Wisconsin and recently promoted to Regional Biologist. She has more than 10 years of experience working on wetlands and grasslands on private and public lands including past positions with Pheasants Forever and USFWS. Gretchen Skudlarczyk has been with Pheasants Forever for 8 years, the last 3 years as the Wetland Easement Team Specialist. Her role is to accelerate delivery of technical and programmatic assistance for wildlife habitat and USDA's Wetland Reserve Easement program.
Spur Lake: A long and unfinished journey
Carly Lapin, WDNR, and Nathan Podany, Sokaogon Chippewa Community Environmental Department
Friday, December 1, 2023
10:30 am CT
Description
Spur Lake is a 113-acre, shallow, muck-bottom lake in eastern Oneida County that historically supported very good wild rice crops of cultural and ecological significance. Wild rice declined noticeably during the 1990s, and it is now largely absent from Spur Lake. Carly and Nathan will discuss the efforts of a collaborative working group to understand why wild rice has disappeared from Spur and explore options for bringing it back.
Carly Lapin works as the North-central Wisconsin District Ecologist for WDNR's Bureau of Natural Heritage Conservation, based in Rhinelander. She monitors, restores, and protects State Natural Areas across 9 counties and assists with monitoring and protection of rare species. Nathan Podany works for the Sokaogon Chippewa Community Environmental Department, where he manages the physical, chemical and biological aspects of their surface water program.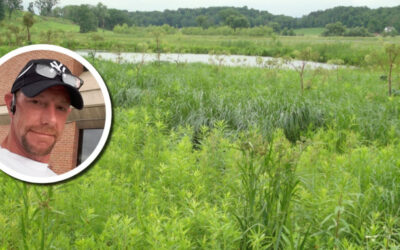 This presentation will demonstrate ways to get the most out of chemical control by taking advantage of herbicide-additive systems and detail the essentials of target plant anatomy and physiology as they relate to invasive species suppression.