To help bring more hope and positivity into the world during the COVID-19 pandemic (and keep talking about wetlands, too!), Wisconsin Wetlands Association is offering special virtual wetland programming to our members, supporters, and the community at large. One of these offerings is Wetland Coffee Breaks to help keep our community of wetland lovers connected and learning about wetlands during this time of social distancing. Our Wetland Coffee Break series features brief presentations about wetlands, the plants and animals that call them home, and the many natural benefits they provide to our communities.
Wetland Coffee Breaks are offered as live presentations via secure Zoom meetings. See below for a list of upcoming presentations and to register. Once you register, you'll receive an automatic email including the URL link and password you'll need to access the meeting.
Wetland Coffee Breaks are also recorded and posted to this page so you can watch any that you missed live. Generally, we'll post a Coffee Break recording within a week of the live session.
We are grateful to all of the presenters for sharing their knowledge and expertise and to everyone interested in learning more about wetlands!
If you are interested in giving a Wetland Coffee Break presentation, or if you have a wetland topic you'd like to see covered, please contact Katie at Katie.Beilfuss@wisconsinwetlands.org.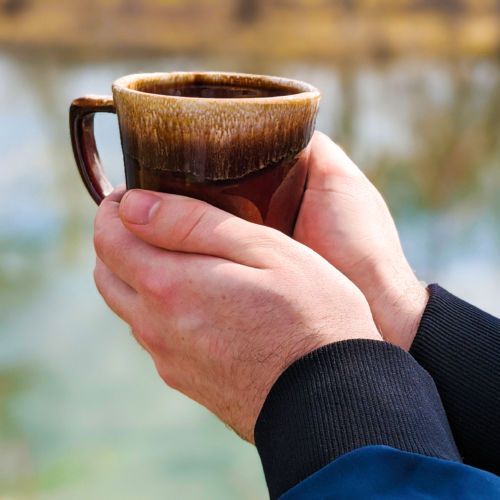 Other wetland video series: 
Register for a Wetland Coffee Break
A social history of the Lower Wisconsin Riverway, a Wetland of International Importance
Mark Cupp, Lower Wisconsin State Riverway Board
Friday, September 25, 2020
10:30 am
Description
People have nurtured the 92-mile-long Lower Wisconsin riverway and its adjacent wetlands and uplands for millennia. This long history was highlighted by State Riverway designation in 1989 and by the subsequent management of both private and public lands under the purview of a citizen Riverway Board. Hear about the cultural and social history of the Riverway from Mark Cupp, director of the Lower Wisconsin State Riverway Board and long time "river rat." He'll unearth the enlightening story of how people have brought their varied talents and perspectives into the ongoing and evolving process of ensuring a bright future for this unique and magnificent Wetland of International Importance.
Mark Cupp has been the executive director of the Lower Wisconsin State Riverway Board since the inception of the project in 1990. He was a member of the Wisconsin Land and Water Conservation Board from 2000-2020, recently serving as Chair.
The history and ecology of Horicon Marsh: A Wetland of International Importance
Liz Herzmann, Horicon Marsh Education and Visitor Center
Friday, October 9, 2020
10:30 am
Description
The story of Horicon Marsh is one of creation, destruction, and revival. Created by the glaciers yet scarred by humans, this important wetland has been restored by conservationists who had the foresight to think about the future of this wetland. Despite the degradation, Horicon Marsh was listed as a Ramsar Wetland of International Importance in 1990 and is one of the best of the best wetlands in the world. Though significantly changed, it is a true testament to the resiliency of nature when allowed to be preserved.
Liz Herzmann has worked for the DNR as a wildlife educator at Horicon Marsh for more than 11 years. She is an avid birder and member of the Horicon Marsh Bird Club. She enjoys the opportunity to reach a variety of audiences and ages and share the amazing story and wildlife of Horicon Marsh. Liz, her husband, and two young children live in Horicon and enjoy spending time outside camping, birding, kayaking, fishing, hiking, and hunting.
After the celebration: A decade since the Ramsar designation of the Upper Mississippi River
Mary Stefanski, Upper Mississippi River National Wildlife and Fish Refuge
Friday, November 6, 2020
10:30 am
Description
The wetlands of the Upper Mississippi River manage floodwaters, filter water, and provide habitat for wildlife. They are also vitally important to the environment and economy of Minnesota, Wisconsin, Iowa, and Illinois. In recognition of the critical role these wetlands plays, in January 2010 the area was named a Wetland of International Importance by the Ramsar Convention on Wetlands. The Upper Mississippi River National Wildlife and Fish Refuge and 20 federal and state wildlife areas make up the Wetland of International Importance. Take a photographic journey of this incredibly diverse and magnificent landscape, including the prehistoric snails who call it home and the arctic visitors it entices.
Mary Stefanski has been the Winona District Manager of the Upper Mississippi River National Wildlife and Fish Refuge since 2005, working as part of the team managing a 45-mile stretch of the Mississippi River from Wabasha, MN to Trempealeau, WI. She has also worked at several other National Wildlife Refuges in the upper Midwest. She enjoys the challenges and non-traditional opportunities that come from managing in partnership on a multi-use, large river project. She also enjoys running rabbits with Abby the beagle and chasing birds with Olive the shorthair.
From wetlands with love: Wisconsin's Great Lakes coastal wetlands as important fish habitat

Titus Seilheimer, Wisconsin Sea Grant
Tracking amphibians with HerpMapper
Gary Casper, Great Lakes Ecological Services
Swamp, bog, or fen? An introduction to wetland types of Wisconsin
Ryan O'Connor, Wisconsin DNR
Watch it here!
Wetland conservation, management, and research in Wisconsin are predicated on an understanding of the different types of wetlands that occur in the state. While many experienced practitioners have a strong working knowledge of wetland communities, others who are newer to the field may be less familiar with them. Join WDNR ecologist Ryan O'Connor for a brief introduction to the wetland natural communities of Wisconsin, including key ecological and vegetative characteristics of each community, information about each community's distribution in the state, tips for how to know what type of wetland you are in, and suggestions of helpful resources for deeper learning. Ryan will also discuss some of the different classification systems used by professionals in our region.
Ryan O'Connor is an ecologist with the Wisconsin Department of Natural Resources. He coordinates and conducts surveys of natural communities for WDNR's Natural Heritage Conservation program. His professional interests include providing land managers with high-quality data to make better decisions, developing adaptation resources, and hunting for rare and invasive plants.
Treasures of the Secret Fen
Emily Stone, Cable Natural History Museum
Watch it here!
Cross the moat to discover carnivorous plants, devious orchids, shimmering dragonflies, buried treasure, ripening jewels, and a floating floor. It sounds like fantasy, but it's all science! Cable Natural History Museum Naturalist Emily Stone will give a guided tour of the botany, chemistry, ecology, and mysterious depths of a special local wetland in her community.
Emily M. Stone is a naturalist by birth, training, profession, and passion. Her childhood spent as a "mud and water daughter" in northeast Iowa led to a degree in outdoor education from Northland College and a Field Naturalist Masters from the University of Vermont. As the Naturalist/Education Director at the Cable Natural History Museum in Cable, Wisconsin, Emily writes a weekly "Natural Connections" column published in more than a dozen local and regional newspapers, including the Duluth Reader. She has earned multiple Excellence in Craft awards from the Outdoor Writers Association of America.
More than ducks & geese: Birding Wisconsin's wetlands
Kari Hagenow, The Nature Conservancy
Watch it here!
During the month of May, millions of birds will move over and through Wisconsin's landscapes as they travel northward to their summer breeding grounds. Nearly 40 percent of these species will use wetlands for critically important resources during their journey, with many of those birds settling in to live and breed in our Wisconsin wetlands. Are you ready to start exploring? This coffee break will give an overview of why wetlands are so important for migratory and resident birds, the types of birds and common species that you can find in them, and the resources that can help you start birding your local wetland.
Kari Hagenow is the Land Steward for The Nature Conservancy's Door Peninsula Project. While getting her master's degree in Environmental Science from UW-Green Bay she was introduced to the world of birding and hasn't looked back. When she's not out chasing the latest spring migrants, she's spending time at her home in De Pere, Wisconsin, with her husband, Tyler, and their Labrador-Boxer mix, Brewer, as they work to restore their own woodland.
Using wetlands as solutions to reduce flood damage risks in the Lake Superior Basin
Kyle Magyera, Wisconsin Wetlands Association
Watch it here!
To help communities find cost-effective solutions to their flooding and infrastructure problems, the Wisconsin Wetlands Association (WWA) is aiming to promote and demonstrate the concept of Natural Flood Management (NFM) in the Lake Superior Basin. NFM is a watershed-based approach for implementing 'slow the flow' practices that incorporate natural river and landscape processes to store water and limit the erosive energy of runoff. In this presentation, Kyle will highlight the work of the interdisciplinary partnership WWA has convened to study the impacts of erosion-induced wetland drainage. He'll also describe how the partnership is identifying opportunities to reconnect floodplains and restore hydrology in headwater wetlands and streams to build climate-resilient natural infrastructure.
Kyle Magyera coordinates WWA's Local Government Outreach Program and provides technical assistance to professional staff, local officials, citizens, and other groups with an interest in or questions and concerns regarding wetland protection, restoration, and management. He has a double Master's in Urban and Regional Planning and Water Resources Management from UW-Madison and more than ten years of experience working on wetland conservation and water policy issues with WWA and the Wisconsin Department of Natural Resources.
Spring Beauties: Ephemeral Ponds
Mandy Little, UW-Stout
Watch it here!
Ephemeral ponds are the spring beauties of many wetland landscapes. Join Mandy Little for an exploration of ephemeral pond ecology and some of the wonderful critters found in these wetlands.
Mandy Little is a wetland plant ecologist working at UW-Stout with research specialties in peatlands, ephemeral ponds, and beaver wetlands.
Managing water levels for wetland health on the Upper Mississippi River
Gretchen Benjamin, The Nature Conservancy
Watch it here!
The locks and dams on the Upper Mississippi River (UMR) created stable high water conditions. Over time, this continual inundation drowned out the aquatic plant communities and caused stress to the river's floodplain forests. Natural resource organizations and agencies are working with the US Army Corps of Engineers to change how they operate these dams to regain some of the seasonal variability in water levels to reinvigorate these vegetation communities within the UMR. Join Gretchen Benjamin of The Nature Conservancy to hear about this important work, how it has evolved over 25+ years, and how it is improving the health of the UMR.
Gretchen Benjamin is the Large River Specialist for the Midwest Division of The Nature Conservancy and a member of the Board of the Wisconsin Wetlands Association. Her work focuses on restoring and protecting ecological conditions in the Mississippi River and other national rivers. Before joining the Conservancy in 2008, Gretchen spent nearly 25 years serving in different capacities on the Mississippi River for the Wisconsin DNR. Gretchen lives near the banks of the Mississippi River in La Crosse, Wisconsin.
Sandhill 101: The ecology and behaviors of Sandhill Cranes
Anne Lacy, International Crane Foundation
Watch it here!
Join Anne Lacy, crane research coordinator at the International Crane Foundation, for an overview of the cranes in your neighborhood—or even right in your backyard! Anne will share information about sandhill crane ecology and unveil what's behind this favorite wetland bird's weird and wonderful behaviors.
Anne Lacy accepted an internship at the International Crane Foundation (ICF) in 2000 while finishing her thesis at the University of Minnesota-Duluth. After completion of master's degree, Anne accepted a full-time position at ICF as a research associate, working on an ongoing long-term study of sandhill cranes. Since 2009, she has also been involved in whooping crane reintroduction to study the ecology of the newly reintroduced whooping cranes in Wisconsin.
Wetland soils 101: Way more than just mud on your boots
Drew Fowler, Wisconsin DNR
The hydrology of upper watershed wetlands: A tour of the Penokee Hills
Tracy Hames, Wisconsin Wetlands Association
Wisconsin frogs: Where are they and what are they doing mid-summer?
Rori Paloski, Wisconsin DNR
Wetland hydrology 101: A practitioner's perspective on the good, the bad, and the ugly
Steve Gaffield, MARS-EOR, Inc.
What makes a wetland internationally important? The ecology of the Lower Wisconsin Riverway
Mike Mossman, ecologist and friend of the Lower Wisconsin Riverway