Wisconsin Wetlands Association launched our Wetland Coffee Breaks in to help keep our community of wetland lovers connected and learning about wetlands throughout the year, from anywhere! Our Wetland Coffee Break series features brief presentations about wetlands, the plants and animals that call them home, and the many natural benefits they provide to our communities.
Wetland Coffee Breaks are offered as live presentations via secure Zoom meetings. See below for a list of upcoming presentations and to register. Once you register, you'll receive an automatic email including the URL link and password you'll need to access the meeting.
Wetland Coffee Breaks are also recorded and posted so you can watch any that you missed live. Generally, we'll post a Coffee Break recording within a week of the live session. You'll find links to these recordings below.
We are grateful to all of the presenters for sharing their knowledge and expertise and to everyone interested in learning more about wetlands!
If you are interested in giving a Wetland Coffee Break presentation, or if you have a wetland topic you'd like to see covered, please contact Katie at Katie.Beilfuss@wisconsinwetlands.org.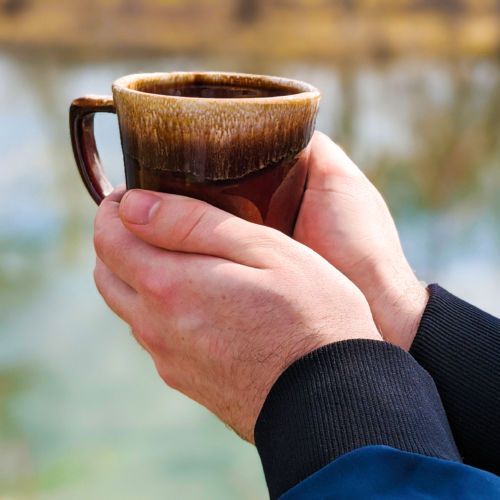 Other wetland video series: 
Register for a Wetland Coffee Break
New field guide to amphibian egg masses and larvae
Gary Casper, Great Lakes Ecological Services, LLC
Friday, April 9, 2021
10:30 am
Description
Ever wonder what that tadpole is? Need to better identify wetland indicators on your wetland delineations? The new "Field Guide to Amphibian Eggs and Larvae of the Western Great Lakes" can help. This pocket-size waterproof guide covers the identification of the eggs and larvae of all 23 species of frogs, toads, and salamanders found in the western Great Lakes region (southern Ontario to central Minnesota). This presentation will review how to use the guide to identify eggs and larvae. The authors share more than 100 years of cumulative experience with these creatures in 5 US states and 2 Canadian provinces. With new identification keys to eggs and larvae, descriptive species accounts, distribution maps, and color photographs of every life stage, this guide will be invaluable for wetland assessments and nature studies. It is available for mail order from Midwest PARC (mwparc.org/store) and the Wisconsin Wetlands Association (wisconsinwetlands.org/fieldguide) and all sales proceeds support these organizations.
Gary Casper is an associate scientist at the UW-Milwaukee Field Station, an adjunct of the graduate faculty at UW-Green Bay, and an associate editor for the Natural Areas Journal and Herpetological Conservation and Biology. He researches wildlife conservation, inventory, and monitoring throughout the Great Lakes Region.
Population status of Wisconsin's endangered/threatened amphibians and reptiles

Rori Paloski, Wisconsin Department of Natural Resources
Friday, April 23, 2021
10:30 am
Description
Join conservation biologist Rori Paloski to learn about the current population status of Wisconsin's endangered and threatened herptiles most frequently associated with wetlands: Blanchard's cricket frog, queensnake, eastern massasauga rattlesnake, western ribbonsnake, eastern ribbonsnake, and wood turtle. We will focus on Wisconsin's wetland herps and their status in the state, looking at each species individually and covering their basic biology, population status, and current conservation efforts.
Rori Paloski is a conservation biologist with WDNR. She specializes in herpetology and endangered resources regulation. Current work includes surveying for eastern massasauga rattlesnakes, cricket frogs, and ornate box turtles; coordinating amphibian citizen-based monitoring projects; and conducting biotic inventory herptile surveys on state properties.
How are water drawdowns affecting nest survival of marsh birds?

Stephanie Schmidt, University of Illinois at Urbana-Champaign and Illinois Natural History Survey
Friday, May 7, 2021
10:30 am
Description
Moist-soil management is a wetland management practice that uses spring/summer water drawdowns to promote diverse and abundant plant growth. However, water is a critically important barrier to land-based predators, and in wetlands, vulnerable marsh birds select their nest sites over water for this reason. The problem here is that managed sites implement drawdowns after marsh birds have started nesting and this may be placing them in riskier environments than they selected. Hear about how nest cameras helped researchers to explore the impact of water drawdowns on predator access to and survival of marsh bird nests.
Stephanie Schmidt earned her bachelor's degree in zoology from the University of Wisconsin-Madison in 2018. She is currently a graduate student at the University of Illinois at Urbana-Champaign where she is pursuing her master's degree in natural resources and environmental sciences. She loves the Midwest and wetland birds.
Wisconsin's amazing native mussels

Lisie Kitchel, Wisconsin Department of Natural Resources
Friday, May 14, 2021
10:30 am
Description
Tune in for an introduction to the 50 species of native mussels in Wisconsin. Lisie will discuss their ecology, historical uses, and cultural contributions, as well as their diversity, fascinating life history, and significance to water quality. Plus she'll explain how mussels were key to bringing international recognition to some important Wisconsin wetlands! Last but not least, learn the difference between a mussel and a clam!
Lisie Kitchel is a Conservation Biologist in the Bureau of Natural Heritage Conservation of the Wisconsin DNR. She is trained as an Aquatic Ecologist and works on anything aquatic, but most of her work focuses our native mussels.
Ears in the Driftless: BioAcoustic monitoring in a restored wetland

Mike & Marcie O'Connor, landowners
Friday, June 11, 2021
10:30 am
Description
BioAcoustics is a cross-disciplinary combination of acoustics and ecology. Learn how landowners Mike and Marcie O'Connor are using this technique to document habitat changes over the course of restoring wetlands on their land, Prairie Haven, in Wisconsin's Driftless Area. How does bioacoustic monitoring work, and what have they learned? Join us for this Wetland Coffee Break to find out!
Mike and Marcie O'Connor are retired landowners working to restore and manage their land in Wisconsin's Driftless Area. Marcie started learning to identify plants when she was about 10 years old, studied botany and ecology in college, and has remained interested in plants and restoration ecology ever since. Today, she focuses on restoring Prairie Haven (www.PrairieHaven.com) and the citizen science of identifying and documenting all the animals and plants that she finds there. Mike is a retired tech-industry entrepreneur who started fooling around with music and audio about as early as Marcie got interested in plants. BioAcoustics is a great way for him to bridge between his interest in all things tech and the restoration work Marcie and he do.
Establishing a Bay of Green Bay National Estuarine Research Reserve

Emily Tyner, UW-Green Bay
Friday, June 25, 2021
10:30 am
Description
In recognition of the ecological, cultural, and historical importance of the wetland and estuarine systems of Green Bay, UW-Green Bay is leading the process to designate the Bay of Green Bay as a National Estuarine Research Reserve (NERR). The NERR System is a national network of 29 sites across the coastal US, including the Great Lakes, designed to protect and study estuaries and their coastal wetlands. Wisconsin already has one designated NERR on Lake Superior. Emily will discuss the benefits of a NERR designation for Northeast Wisconsin and opportunities to provide input and thoughts on the role a reserve could fill in the region.
Emily Tyner is the first-ever Director of Freshwater Strategy at UW-Green Bay. She is a Doctoral candidate in the School of Freshwater Sciences (SFS) at the University of Wisconsin-Milwaukee, where her dissertation focuses on the Human Dimensions of Natural Resources and Science Communication.
Watch previous presentations
Click "Older Entries" below to see more past presentations, or click here.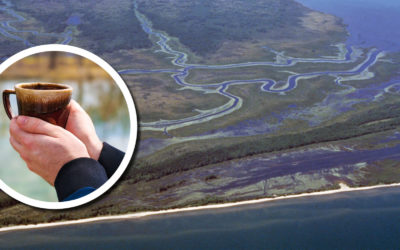 At the mouths of the Kakagon and Bad Rivers along Lake Superior in Ashland County lie some of the most extensive and highest-quality coastal wetlands in the Great Lakes.