The Wetland Coffee Break series helps keep our community of wetland lovers connected and learning about wetlands throughout the year, from anywhere! Bring your coffee and learn about wetlands, the plants and animals that call them home, and the many natural benefits they provide to our communities. Sessions are held on Zoom and feature time for audience Q&A.
See below for a list of upcoming presentations and to register. Once you register, you'll receive an automatic email including the URL link and password you'll need to access the meeting. We record and post each presentation so you can watch any that you missed live. You'll find links to these recordings below, and you can also find them on our Facebook page.
We are grateful to all of the presenters for sharing their knowledge and expertise and to everyone interested in learning more about wetlands! If you are interested in giving a Wetland Coffee Break presentation, or if you have a wetland topic you'd like to see covered, please contact Katie.Beilfuss@wisconsinwetlands.org.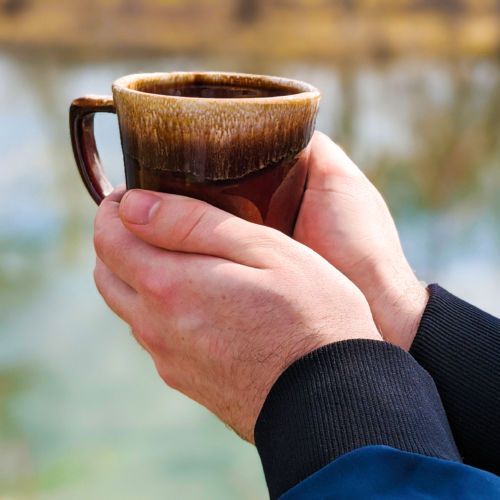 Register for a Wetland Coffee Break
Visiting the Great Spirit's Garden: Wild rice in Wisconsin's wetlands

Peter David, wildlife ecologist
Friday, October 1, 2021
10:30 am
Description
Wisconsin is one of the few places in the world to contain a significant abundance of Manoomin, or wild rice. Thus, our role as stewards of this resource has global significance. Unfortunately, rice abundance in the state has declined significantly, and the rice remaining on the landscape is threatened by changes in the climate and the biological community. Peter David, one of Wisconsin's experts on wild rice, will provide a brief overview of the ecology of Manoomin, touch on its cultural and ecological significance, and provide an introduction to the challenges it is facing in a changing landscape.
Peter David is a wildlife biologist with the Great Lakes Indian Fish and Wildlife Commission, where he assists GLIFWC's member tribes in the implementation of their off-reservation, treaty-reserved rights. He received his education (bachelor's and master's degrees in Wildlife Ecology) from the University of Wisconsin-Madison and from the tribal elders and members for whom he has worked for the past 35 years.
Wetland butterflies of Wisconsin

Mike Reese, butterfly enthusiast
Friday, October 15, 2021
10:30 am
Description
Join butterfly expert Mike Reese to learn about several Wisconsin wetland habitats and the butterflies that you could expect to find there. Mike will show photos of the different species of butterflies, discuss the habitats where they could be found, and talk about the butterfly hostplants that they use.
Mike Reese has been watching and taking photos of Wisconsin butterflies since 1986. Since 2003, he has maintained the website wisconsinbutterflies.org and has been involved with the North American Butterfly Association as the moderator of their "Recent Sightings" website. Mike is a retired high school math teacher and library media specialist and gets to spend much of his time in Wisconsin wild areas learning about the insects and other organisms that are found there.
Monitoring pollinators in wetlands: Opportunities for citizen scientists

Eva Lewandowski, citizen-based monitoring coordinator
Friday, October 29, 2021
10:30 am
Description
Many Wisconsin volunteers participate in monitoring projects to track the distribution and abundance of pollinators. These projects collect data crucial to conservation research and land management, but wetlands are underrepresented in the monitoring efforts. Join citizen-based monitoring coordinator Eva Lewandowski to learn more about how data collected by citizen scientists help scientists and land managers. Eva will also discuss opportunities for volunteers to monitor bees and butterflies in wetlands and other habitats across the state.
Eva Lewandowski is the Citizen-based Monitoring Coordinator at the Wisconsin DNR, and she serves on the board of the Citizen Science Association. She earned a PhD in Conservation Biology from the University of Minnesota.
Climate change resources for wetland managers

Ryan O'Connor, ecologist
Friday, November 5, 2021
10:30 am
Description
Climate change impacts wetlands, but not all wetland types and locations are at equal risk. Find out what types of wetlands are most vulnerable, what site-level factors can improve resiliency, and most importantly, what resources are available to help you create a customized adaptation plan for your specific site.
Ryan O'Connor is an ecologist and coordinates and conducts biotic inventories of natural communities for the Wisconsin DNR's Natural Heritage Inventory. His professional interests include providing land managers with high-quality data to make better decisions, developing adaptation resources, and hunting for rare and invasive plants.
State Natural Areas at 70: Still protecting Wisconsin's Wetland Gems®

Thomas Meyer, conservation biologist
Friday, November 19, 2021
10:30 am
Description
Join conservation biologist Thomas Meyer to learn about the Wisconsin DNR's State Natural Areas Program, the oldest and largest state-wide nature preserve protection program in the nation, celebrating its 70th year in 2021. Thomas will give a brief history and highlights of the program and then take a virtual tour of some of the state's most outstanding natural areas — from old-growth forests to vibrant prairies to biologically diverse wetlands — and learn more about what makes them so special.
Thomas Meyer is a conservation biologist with the Wisconsin DNR. His 35-year career with the Bureau of Natural Heritage Conservation in Madison has focused on protecting native ecosystems and habitat for rare species of plants and animals. He helps guide the State Natural Areas Program, which protects some of the best remaining ecological communities in the state (some of which are also Wetland Gems®!).
Anticipating the hydrologic consequences of Emerald Ash Borer invasion in tribal forested wetlands through a sapflux network

Angela Waupochick, ecologist and PhD candidate in forest ecology
Friday, December 3, 2021
10:30 am
Description
Tribal communities maintain significant landholdings, including Black ash-dominated forested wetlands. These systems have not been a priority for management, but anticipated mortality induced by emerald ash borer (EAB, Agrilus planipennis) has prompted tribal managers to seek strategies and prioritize areas for mitigation. Join Angela Waupochick as she shares details about how her tribal-scale research will direct local management by capturing a refined picture of environmental and atmospheric controls. She'll also share how the data from this work will better determine how site hydrology changes following black ash loss and direct specific management areas for tribal managers.
Angela Waupochick is Ph.D. student in forest and wildlife ecology at UW-Madison. She is conducting a forested wetland research project in the Menominee and Stockbridge-Munsee Tribal Lands near Keshena, in northern Wisconsin. Her goal is to find the best conservation strategies for these black ash–dominated ecosystems because they are widespread in the area and a culturally significant tribal land resource. She has had many wildland fire and water resources technician appointments that have focused on tribal community restoration and enhancement projects and program development.
Chemical control of cattail in species-rich wetlands

Craig Annen, senior ecologist
Friday, December 10, 2021
10:30 am
Description
Narrow-leaved cattail (Typha angustifolia) and hybrid cattail (Typha x glauca) are aggressive invaders of wetlands in Wisconsin. Integrated Restorations, LLC, has been evaluating the use of the selectively-targeted herbicide imazapyr (Polaris) for reversing cattail invasions in species-rich fen and sedge meadow wetlands of the Mukwonago River watershed in southeastern Wisconsin. The treatment protocol they developed reduced cattail stem densities by more than 99% with remarkable improvements in native wetland vegetation species richness, diversity, and floristic quality. Join Integrated Restorations operations manager and principal restoration ecologist Craig Annen to hear more about the research and its results and learn how this approach may help you control invasive cattail in your wetland.
Craig Annen earned his bachelor's of science in environmental science and plant molecular cell biology from Edgewood College in 1998 and his master's of science in aquatic botany from the UW-LaCrosse in 2001. His research interests include invasive species management, economical ecology, and mathematical ecology. Craig is senior ecologist and operations manager of the firm Integrated Restorations, LLC. He speaks fluent German, is a New York Yankees fan, and is a gourmet cook of Middle Eastern and German cuisine.
Watch previous presentations
Click "Older Entries" below to see more past presentations, or click here.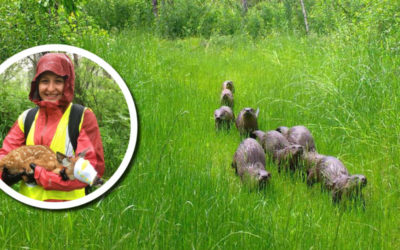 Learn about how the trail camera data from the Snapshot Wisconsin project can be used to monitor wildlife in Wisconsin's wetlands and beyond and how you can get involved.