Speak up for wetlands 
With half our wetlands already gone, Wisconsin needs wetland supporters like you now more than ever. You can help protect and care for wetlands by speaking up for wetlands when it matters most.
Learn about wetland issues
By learning about the recent threats and opportunities facing Wisconsin's wetlands, you'll be ready to speak up for wetlands when your voice is needed.
Sign up for action alerts
Sign up to receive Wetland Alerts, our email alerts on current issues facing wetlands and opportunities to advocate for better wetland protections.
Support our advocacy work
We rely on gifts from people like you to continue speaking up for wetlands. Donate today to help Wisconsin's wetlands get the protection they need.
About our policy work
Our staff work year-round to encourage wetland protection, restoration, and management. Through proactive and responsive advocacy, strategic partnerships with agencies and organizations, and with the support of our members, we speak up for wetlands across the state. We're committed to  non-partisan, solution-oriented strategies to ensure wetlands have the protection they need.
Recent policy initiatives include:
Encouraging Wisconsin to invest in improving state wetland maps
Helping UW-Extension build capacity to support watershed-scale wetland conservation planning
Fighting legislation that harms wetlands
How does WWA pick its policy issues?
As a statewide organization, we work on policies and projects that have precedent-setting implications for the protection, restoration, and care of Wisconsin's wetlands.
How does WWA fund its policy work?
We rely on individual donations and major gifts to support our legislative program work. Place-based projects are generally supported by private and government grants.
I'm involved in a local wetland dispute, can you help me?
While we can't attend your meetings or take positions on your particular issue, our staff can help answer your questions or refer you to others with the expertise you need.*  We also encourage you to use the information on this website to help you communicate the value of your local wetlands to others.
*This work is possible through the generous support of individuals who donate to WWA. If you receive assistance, please consider donating to help us sustain our capacity to support local wetland advocacy.
How can I help protect wetlands?
You matter to Wisconsin's wetlands. No matter who you are or where you live, you can help protect wetlands. By staying informed about the latest wetland policy news, speaking up for wetlands, and by supporting Wisconsin Wetlands Association, you can help advocate for wetland protection.
Advocacy related updates
We regularly post policy and advocacy-related updates. Check out a few recent posts below.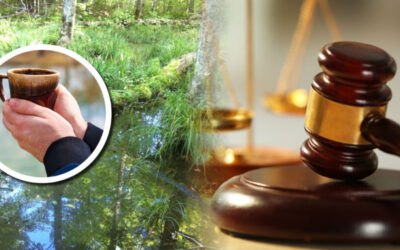 Watch the recording of our special one-hour edition of the Wetland Coffee Break series to explore the ecological, legal, and political implications for Wisconsin wetlands of the U.S. Supreme Court's decision in Sackett vs EPA.
read more