The Wisconsin Breeding Bird Atlas II is a comprehensive five-year field survey documenting the distribution and abundance of birds breeding in our state. This effort, approaching its third year in 2017, is a massive volunteer effort undertaken by an ever-growing group of more than 1,100+ birders. The Atlas will be the most comprehensive survey of our state's avian species in the history of Wisconsin and will likely represent the state's largest citizen science effort to date.
Building upon Atlas I (1995-2000), the effort will ultimately allow us to see changes in bird populations—including priority wetland species like Yellow Rail, Yellow-crowned Night Heron, American Black Duck, Yellow-headed Blackbird and LeConte's Sparrow—since the last survey. These insights will help us identify the conservation needs of breeding birds to inform conservation agencies and organizations, county and regional governments, landowners and citizens for years to come.
Sponsor-a-Species to Support the Atlas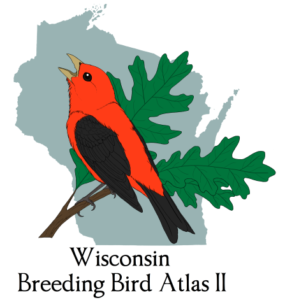 Although the effort is primarily undertaken by volunteers, it is vitally important that we also engage seasonal professionals to ensure statewide coverage. Funding generated from the Sponsor-a-Species campaign is used to hire seasonal ornithologists to survey remote and hard-to-access priority blocks throughout the state where there are few volunteers. The cost of these seasonal hires will approach $85,000 in 2017 alone!
Through Sponsor-a-Species, you can sponsor one or more bird species of your choice for one to five years. The cost is as little as $100 per year! If you choose to sponsor a species for the entire five-year period (starting at $500), your name — or the name of someone you wish to honor — will be associated with that species in all Atlas forthcoming publications and in the final print and web-based versions of the Breeding Bird Atlas.
There are still many wetland bird species yet to be sponsored, including ducks (Canvasback, Gadwall, Mallard, Red-breasted Merganser), Horned Grebe and Western Grebe, Yellow-crowned Night Heron, King Rail and Yellow Rail, White Pelican, Bank Swallow, Caspian Tern and many more.
Learn how you can sponsor a species today from the Wisconsin Society for Ornithonology.
Become an Atlaser and Submit Observations
The Atlas is successful due to the work of people like you who love the natural habitats of Wisconsin and the diversity of life that dwells within them. If you like to watch birds, consider taking a few simple steps to begin "birding with a purpose" and become an atlaser.
• Join the atlas email list for regular updates on the project:
• Read the quick overview of how to get started
• Like the WBBA II Facebook page
Article by the Wisconsin Breeding Bird Atlas team. Photo by Brian Hansen.