Historically, fire shaped many millions of acres of natural habitats in Wisconsin, including prairie, savanna, and wetlands. Fire kept these habitats open by setting back encroaching shrubs and trees, benefiting all manner of plants and animals dependent on "open" habitats. Today, prescribed burning is the controlled use of fire to mimic the role of fire in maintaining these habitats. Prescribed burns in wetlands remove thatch, control woody plants, and expose soil for native seeds. However, not all wetland systems depend upon fire, especially those in the northern part of the state. Fire should not be used in peat bogs or in wetlands with tamarack trees that cannot tolerate fire.
Can landowners conduct a prescribed fire?
More and more landowners are using fire as a relatively inexpensive and very effective tool for woodland, grassland, pasture, and wetland management. Like any tool, when used properly, prescribed fire can be an important part of restoring health to your wetland.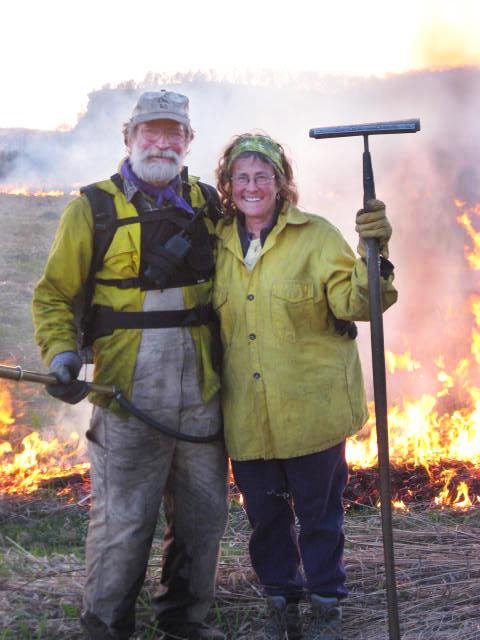 That said, you should not attempt a prescribed burn without expert assistance. Conducting a prescribed fire requires training and experience; so does deciding if your wetland could benefit from a prescribed burn, as fire is not appropriate for all wetland types. Private contractors are available to conduct a burn on your land, and in some areas, networks of trained volunteers have formed to help each other conduct prescribed burns. Regardless of who helps you with your burn, you must secure a permit from the Wisconsin Department of Natural Resources (WDNR) or your local municipal or township authorities before anyone lights a match. See the 
prescribed fire page on WDNR's websiste
for information about permits and the
Wisconsin Fire Council website
for a list of prescribed fire contractors.
Private landowners may conduct prescribed fires on their own land after obtaining the necessary permits. Your right is also your responsibility, however. If your fire escapes and starts a wildfire, you will be responsible for suppression costs and can also be held accountable for any injury or loss of property incurred as a result—another good reason to work with a professional or someone with prior experience.
What if burning is not an option for me?
In situations where burning is not an option or is not appropriate for your type of wetland, mowing or brush removal can be effective in controlling encroaching shrubs or invasive plants. When the ground is frozen, mow vegetation about six to eight inches tall in order to effectively remove brush without damaging the dormant vegetation. Protect the bird life in your wetland by not mowing during the nesting season (generally May through mid-August). Photos by US Fish & Wildlife Service and Alana Koshollek