Way Will Open
by Mary Linton
$20.00 ($15 for the book, plus $5 for shipping)
Way Will Open features poems by Mary Linton, a wetland scientist, aquatic ecologist, educator, and published poet from Fort Atkinson, Wisconsin. Using nature and wetlands in her poetry, she spoke to our connections to the natural world and often used humor to engage the reader. The volume shares 32 of Mary's poems, both wetland-themed and not, including "postcard poems" she wrote for many friends.
Mary taught poetry workshops outdoors, bringing people into the habitats that affirmed her. She inaugurated a wetland poetry session at the Wisconsin Wetlands Association's annual science conference, a session that is now named the Mary Linton Wetland Poetry Session in her honor.
Proceeds from the sale of Way Will Open will benefit the Wisconsin Wetlands Association, an organization near and dear to Mary's heart. Mary was an active and generous member and served as Board Chair of the organization for seven years.
If you're interested in purchasing five or more copies of Way Will Open, please email programs@wisconsinwetlands.org.
*Pre-orders are being accepted now, and books will be shipped in early October.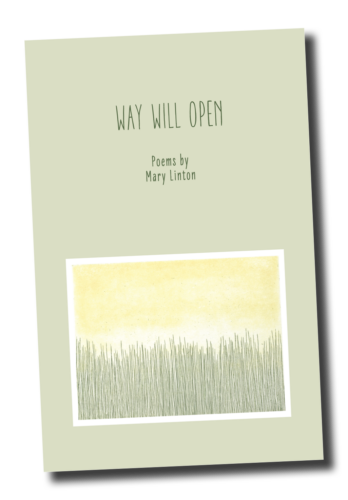 Mary Linton Dedication and Book Launch
Sunday, October 1, 2023, 1:00-3:00 p.m.
Join friends, family, and colleagues to dedicate a park bench on a lovely trail overlooking Rose Lake to honor Mary. There will be a gathering with poetry, song, and light refreshment.