Many of WWA's projects involve place-based, goal-oriented work with specific deliverable outcomes made possible thanks to the agencies and organizations who provide funding for these activities. 
But did you know that membership support is the largest single source of our annual revenue?
Your support allows us the freedom and flexibility to be creative while doing what needs to be done to protect the wetlands of Wisconsin. This includes independently addressing legislative and policy issues, building relationships and partnerships with communities and landowners, providing wetland information and guidance to those protecting and caring for wetlands, and even writing proposals to agencies and organizations that fund place-based project work.
Your support provides reliable revenue, helping us to attract and retain highly qualified staff who are dedicated to wetlands. Your support gives us the confidence we need to approach decision makers, policy leaders, and others knowing that we represent a broad community of supporters who have also dedicated their careers or even their lives to wetlands. Your support motivates us to do right for wetlands, and we take these responsibilities very seriously.
And the good news is that your support is on the rise! Our membership numbers are up and giving levels are increasing. In fact, we've more than doubled our membership revenue over the past five years. Thank you for helping to protect Wisconsin's wetlands.
But as you know, the work to protect wetlands isn't over. We need your continued support to fuel our work towards our vision of a state where wetlands are healthy and plentiful and support ecological and societal needs, and where citizens care for, appreciate, and interact with these natural resources.
So, if you're already a member of WWA, thank you. If you're not, please join us! And please remember wetlands when you make your year-end giving plans this fall.
Wetlands need your support now more than ever.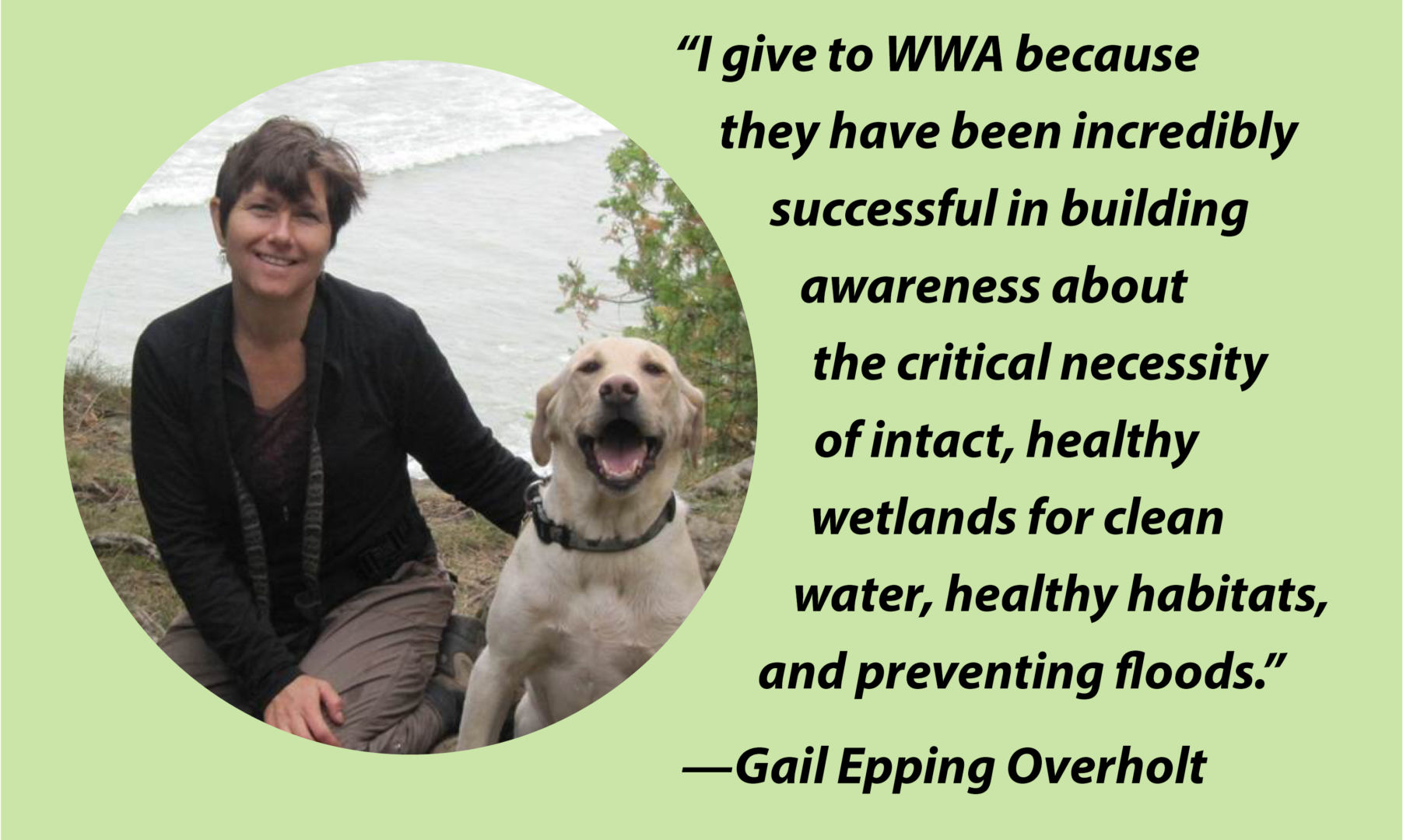 This article originally appeared in our 2017 Volume 3 Newsletter. Do you want to be on our newsletter mailing list? Become a member!
Photo by Katie Beilfuss and courtesy Gail Epping Overholt.