Talking wetland solutions with agriculture professionals
There's an old misconception that wetlands and farms can't coexist—that it's not possible to have both. Wisconsin Wetlands Association doesn't buy this myth and is working hard not only to dispel the myth but also to collaborate with farmers and others in the agricultural community to explore how wetlands can be assets to farmers and their communities.
Recently, WWA teamed up with Discovery Farms, part of the University of Wisconsin-Madison Division of Extension, to advance this work. Discovery Farms is a farmer-led research and outreach program focused on the relationship between agriculture and water quality. In March, Discovery Farms hosted an "Unmasking Misconceptions" webinar series and invited WWA to present a two-part session on wetlands.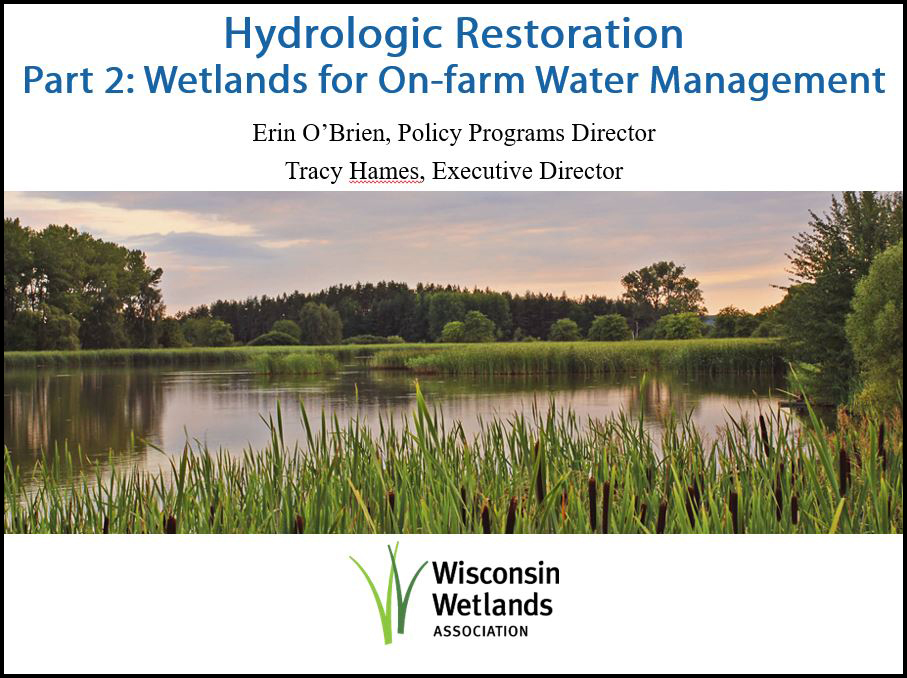 WWA's webinars covered wetland basics, including how wetlands benefit our waters and communities, and focused on ways wetlands can help resolve both on-farm and watershed-scale water challenges. The second presentation highlighted a series of questions agricultural landowners (and the consultant professionals working with them) can ask to understand whether, how, and where wetlands might offer solutions to water-related challenges on their land and in their watershed, namely:
Where is my farm located in the watershed – upper, middle, lower?
Where does the water on my farm and watershed come from?
How has the way my water moves changed (both recently and in the more distant past)?
What issues have resulted from those changes?
Where are current and former wetlands located?
How do I determine the right locations for incorporating wetlands as solutions?
What practices can I use to incorporate wetlands as solutions to my water issues?
What does it take to get a collaborative community-based watershed initiative started?
There is no recipe book for determining which on-farm practices are appropriate in any given situation. Instead, the unique conditions on each farm and site will determine which practices will be appropriate and effective. Some practices to consider include:
Increasing storage to keep water in upper watershed areas and at the top of drainage systems
Reducing erosion by arresting head-cutting in streams and adding wetlands in flat areas above grass swales
Installing groundwater recharge wetlands to capture runoff that otherwise would directly enter rivers, creeks, or lakes.
Installing wetland buffers at the bottom of cropped fields to help keep runoff from directly entering ditches and streams
Reconnecting rivers and streams with their floodplains
Water control structures, spillways, and rock grade control structures are all practices that can be effective in the right situations to achieve a landowner's desired water management benefits. Managed grazing can also be a great practice in wetter areas that might be harder to manage for row crops.
Nearly 50 agricultural landowners, educators, and consultants attended each of two webinars, and the feedback following both webinars was very positive: participants expressed a high level of interest in learning more about wetlands that fit in well on a working farm or in an agricultural watershed. More than 68% of respondents indicated they would be interested in opportunities to see a practice on the ground in a similar operation. WWA will continue to collaborate with Discovery Farms to pursue opportunities for further interactions with crop consultants and other agriculture professionals.
View the webinars on the UW Discovery Farms' YouTube channel:
Part I: The Role of wetlands in watersheds (55 mins)
Part II: Wetlands for on-farm water management (65 mins)
If you are a member of or work with an agricultural group that is interested in learning more about wetlands and how they can benefit farming operations, get in touch with WWA at info@wisconsinwetlands.org.
Photo by Tracy Hames.